BEST SUPER FOODS FOR 6 MONTH BABY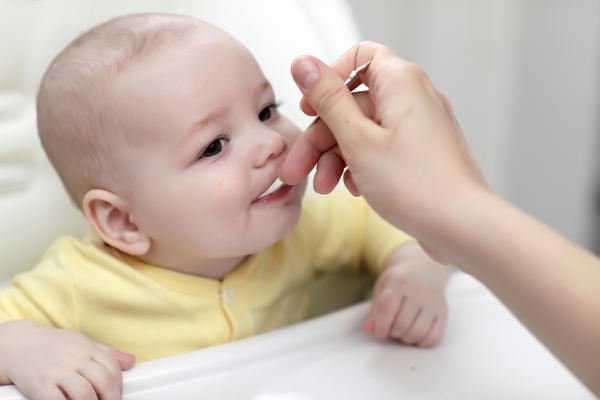 When your baby at around 6 months older, than it will ready for eat foods properly. If you didn't wait for 6 months and start eating them earlier, it is not good for your baby, many problems are arising then. So it is necessary to wait for at least 6 months to give them foods. Homemade food is best for your baby for their first foods. Here are some best foods for babies 6 months old which are as follows-
BANANA
You will need to give banana, to eat for your baby, it gives your baby carbohydrates, which provide effective energy to them, and also give lots of fiber which is helping to maintain a healthy digestive system. Banana is perfect food for your baby, as they come with their own easy to peel packaging. When you give bananas to your babies, make sure first banana are ripe and mashed properly before to give them. 6 month older babies can eat banana easily, but it is necessary for their body, banana are ripe. Thus, they can easily eat and chew properly.
SPINACH
Spinach is very beneficial nutritious food for your babies, which give vitamin A and folic acid to them. Spinach gives vitamin C and iron also to your babies. Spinach taste is really good; most of the babies like to eat spinach. Only one thing you remember in your mind that does not give spinach with tofu together to your babies. Because it will give affect the absorption of calcium by their body
EGGS
Eggs are very beneficial for your baby health. Egg white gives your baby to protein and the yolks provide zinc and vitamins A, vitamin D, vitamin E and vitamin B12. The egg yolk is important for your baby brain health and their growth and development. Eggs are the best source of give protein to your baby as well as other nutrients also.
Give whole grains to your babies, it contains iron, vitamin, zinc, magnesium, fiber and other nutrients which are essential for your baby body. In our country whole wheat flour is regarded as best nutrients for babies. You can give whole wheat bread also to your babies; it is healthy for your baby. And adds some cheese also on the bread which gives nice flavor and also it is very nourishing for their health.
YOGURT
Yogurt is a good source of calcium, protein, phosphorus, and it gives low calories to babies, then it's very beneficial for your babies. By consuming yogurt your baby's bones are healthy and their teeth are also strong. Yogurt also has probiotics, it means a type of good bacteria, which helps your baby to keep their digestive system healthy and boost their immune system properly.
It is important to make yogurt in your home by using milk, it is best for your baby health. Homemade yogurt not only give nutrition to their babies, but your babies can easily digest also this yogurt which made by you at home.